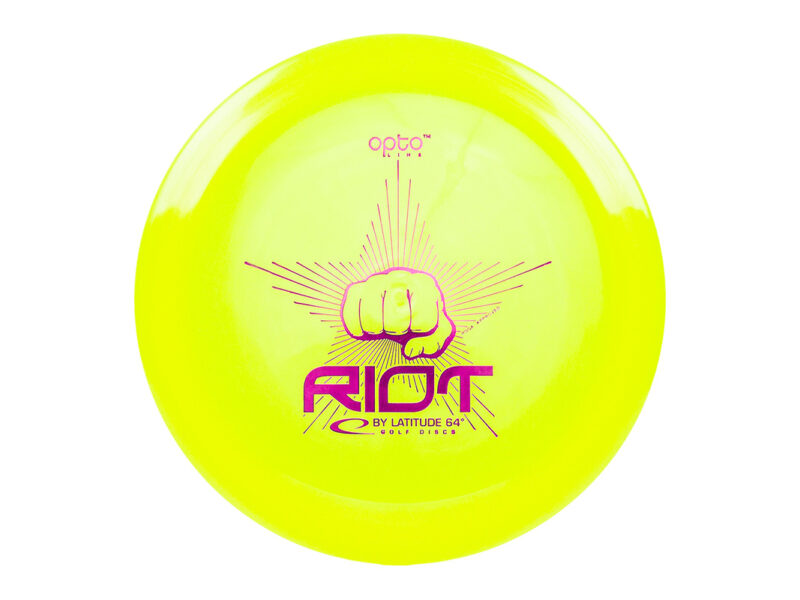 If a Riot makes its way into your hand and you like what you feel, you're going to love what you see when it flies!
One of what I call the second generation molds released by Latitude 64º, Riot is the ideal combination of speed, glide, and stability. Riot's speed sits between a fairway driver (e.g. Saint Pro) and an all-out distance driver (e.g. Halo), making it your best compromise between speed and control.
Stability of Riots varys a little like all larger rim discs; however, the standard deviation is within a thin realm of overstability. Chances are, your shiny new Riot will debut as a trusty headwind battler, but as it works in over a year or more, it will stand up on straighter lines over 350 feet before a gentle, predictable hyzer fade. Simply put, players working to control distance should turn to this disc- whether it comes from a sidearm or backhand delivery.
A final, and too often understated quality separating Riot from other fine pieces of flying plastic is its superb ergonomic design. Riot, along with Halo and Havoc, features a slightly beveled lip (i.e. inside rim), making for not only a uniquely comfortable grip, but a remarkably clean and consistent release too.
So as I said in the beginning, if you like what you feel in your hand with the Riot, you're going to love what you see when it flies. And don't be surprised if it finds a home in your bag for a good long while…